WKUWORLD Winter Camp
2023tue26decAll Day2024sat06janMAA Kophangan (Martial Arts Academy), 42, Woktum, 6, Ko Pha-ngan, Ko Pha-ngan District, Surat Thani 84280, ThailandWKUWORLD Winter CampInvitation - EnglishEinladung - DeutschRegistration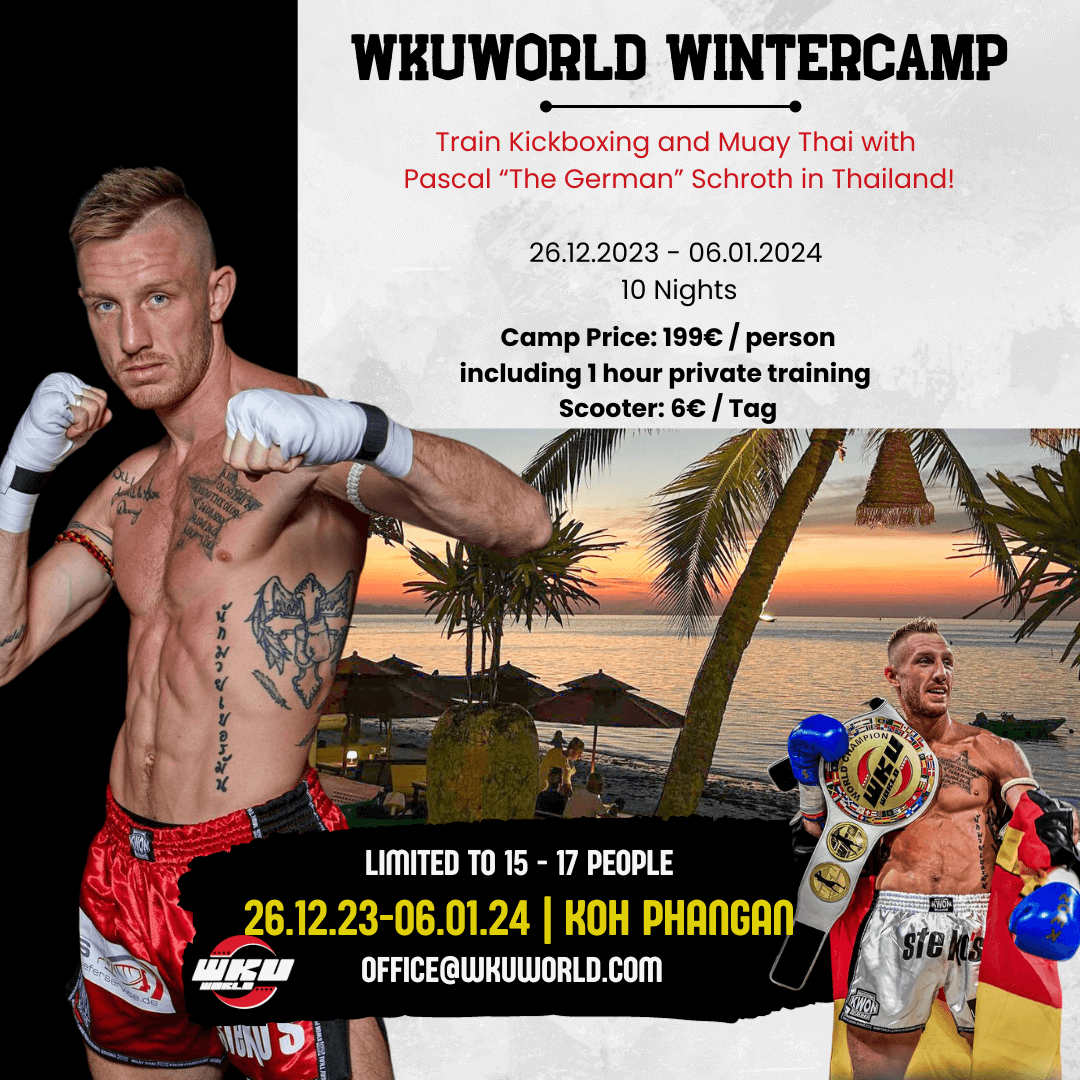 Event Details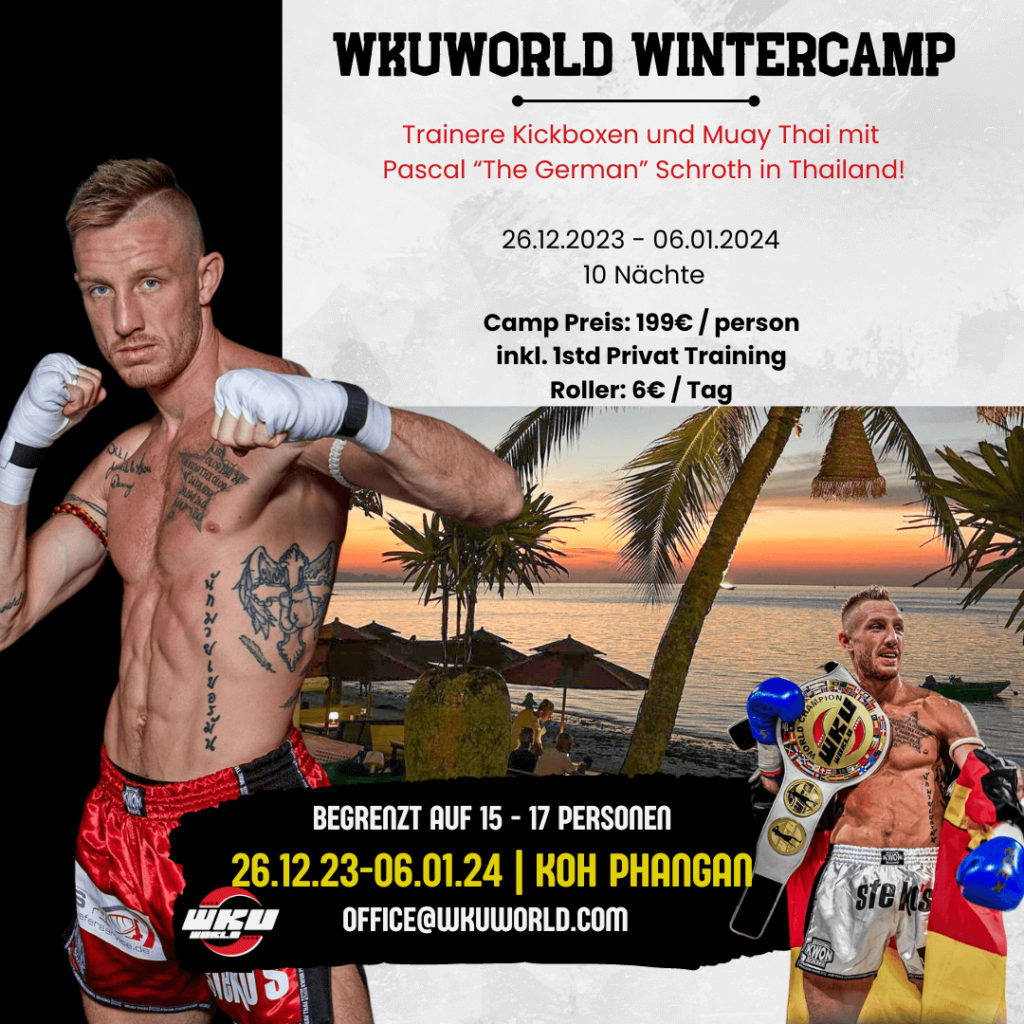 (EN)
🥊 Unleash Your Inner Fighter in Paradise with Pascal "The German" Schroth! 🏝️
Ready to transform your training experience? Join us in Thailand for an unforgettable Kickboxing and Muay Thai camp led by the renowned Pascal Schroth. Here's what you can expect:
👊 Training Sessions Include:
Kickboxing 🥋
Muay Thai 🥊
Private Training 🏋️‍♂️
Boxing 🥊
Strength & Conditioning 💪
Stretch & Mobility 🤸‍♂️
Fighter's Class 🥊
Kids Combat 🧒
Ice Bath ❄️
Beach & Juice Bar 🍹
…and much more!
Accommodation Options (Coco Locco):
2x Bungalow Extra Bed: €90/night (2 persons per bungalow)
3x Standard Room Extra Bed: €80/night (2 persons per room)
1x Family Room: €110/night (3 persons)
2x Bungalow Behind Loccos: €35/night (1-2 persons per bungalow)
Camp Package: €199/person
Includes 1-hour private training session
Scooter Rental: €6/day
📆 Limited Spots Available! Book Your Slot Now!
✉️ Email: office@wkuworld.com
Get ready for a unique training experience, exotic beaches, and a vibrant atmosphere. Don't miss your chance to train with Pascal Schroth in paradise! 🌟 #FightersParadise #KickboxingCamp #MuayThaiTraining #TrainWithTheBest
(DE)
🥊 Trainiere im Paradies mit Pascal "The German" Schroth! 🏝️
Bist du bereit, deine Trainingserfahrung zu verändern? Kommen Sie mit uns nach Thailand zu einem unvergesslichen Kickbox- und Muay Thai-Camp unter der Leitung von Pascal Schroth. Hier ist, was Sie erwarten können:
👊 Die Trainingseinheiten umfassen:
Kickboxen 🥋.
Muay Thai 🥊
Privattraining 🏋️‍♂️
Boxen 🥊
Kraft & Konditionierung 💪
Dehnung & Beweglichkeit 🤸‍♂️
Fighter's Class 🥊
Kinder-Kampf 🧒
Eisbad ❄️
Strand & Bar 🍹
…und vieles mehr!
Unterkunftsoptionen (Coco Locco):
2x Bungalow Zusatzbett: €90/Nacht (2 Personen pro Bungalow)
3x Standardzimmer mit Zustellbett: 80 €/Nacht (2 Personen pro Zimmer)
1x Familienzimmer: 110 €/Nacht (3 Personen)
2x Bungalow hinter Loccos: 35 €/Nacht (1-2 Personen pro Bungalow)
Camp-Paket: €199/Person
Beinhaltet 1 Stunde private Trainingseinheit
Scooterverleih: €6/Tag
📆 Begrenzte Anzahl von Plätzen verfügbar! Buchen Sie Ihren Platz jetzt!
✉️ Email: office@wkuworld.com
Mach dich bereit für ein einzigartiges Trainingserlebnis, exotische Strände und eine lebhafte Atmosphäre. Verpassen Sie nicht Ihre Chance! 🌟 #FightersParadise #KickboxingCamp #MuayThaiTraining #TrainWithTheBest
Time

December 26 (Tuesday) - January 6 (Saturday)(GMT+01:00) View in my time
Location

MAA Kophangan (Martial Arts Academy)

42, Woktum, 6, Ko Pha-ngan, Ko Pha-ngan District, Surat Thani 84280, Thailand