Nationalmannschaftslehrgang Nord
2023sun21mayAll DaySonkei Dojo, Krepenstraße 6c 30165 HannoverNationalmannschaftslehrgang NordRegistration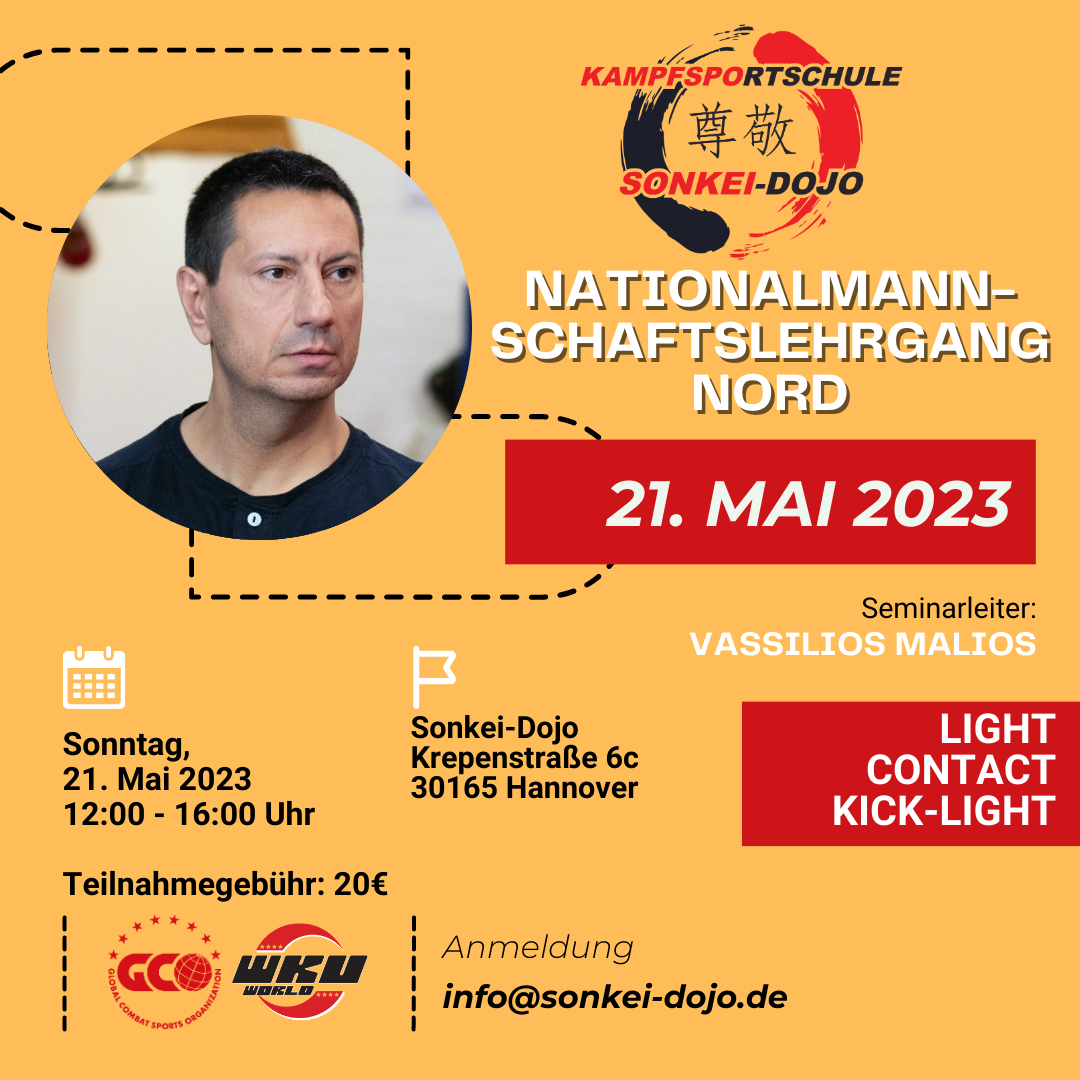 Event Details

(EN) Invitation to the national squad training for Karate, Pointfighting, Light Contact and Kicklight:

In view of the upcoming World Championships 2023 in Calgary, Canada, we would love to invite you to the next National Squad Training. These courses serve as targeted preparation for the upcoming major event and offer you the opportunity to further refine your skills and to grow together as a team.

—On May 21st the first training course will take place in Hanover, at the Sonkei-Dojo Gym. Cost for participation will be 20€. Please remember to bring all your equipment.

—Directly after the International German Championship (IDM) on June 25, we invite you to our second training course in Frankfurt. In addition to the members of the German national team, we also welcome other international martial artists for a lively exchange and joint preparation. The training course will take place in the same hall (Westerbachhalle Eschborn) of the IDM.

—The third and final training course before the World Championships will take place from September 9 to September 10 in Ebern. The event offers an overnight stay in the hall, including meals for a contribution towards expenses of 40€.

Athletes who are ranked 1 to 5 in the ranking list (gco-members.com) of the respective category are eligible to participate. We ask you to send us your participation to office@wkuworld.com.

We are looking forward to your numerous participation and a successful preparation for the World Championships 2023 in Calgary, Canada. Let's do our best together as a team and represent Germany in a worthy manner!

(DE) Einladung zu den Nationalmannschaftslehrgängen für Karate, Pointfighting, Light Contact und Kicklight:

im Hinblick auf die bevorstehende Weltmeisterschaft 2023 in Calgary, Kanada, laden wir euch herzlich zu den nächsten Nationalmannschaftslehrgängen ein. Diese Lehrgänge dienen der gezielten Vorbereitung auf das bevorstehende Großereignis und bieten euch die Möglichkeit, euer Können weiter zu verfeinern sowie als Team zusammenzuwachsen.

—Am 21. Mai findet der erste Lehrgang in Hannover, im Sonkei-Dojo Gym statt. Teilnahmegebühr von 20€. Bitte denkt daran, eure komplette Ausrüstung mitzubringen.

—Direkt im Anschluss an die Internationale Deutsche Meisterschaft (IDM) am 25. Juni laden wir euch zu unserem zweiten Lehrgang in Frankfurt ein. Neben den Mitgliedern der deutschen Nationalmannschaft heißen wir auch andere internationale Kampfsportler herzlich willkommen, um einen regen Austausch und eine gemeinsame Vorbereitung zu ermöglichen. Der Lehrgang wird in derselben Halle (Westerbachhalle Eschborn) der IDM stattfinden.

—Der dritte und abschließende Lehrgang vor der Weltmeisterschaft wird vom 9. September bis zum 10. September in Ebern stattfinden. Die Veranstaltung bietet eine Übernachtungsmöglichkeit in der Halle, inklusive Verpflegung für einen Unkostenbeitrag von 40€.

Zur Teilnahme an den Lehrgängen sind Athletinnen und Athleten berechtigt, die in der Rangliste (gco-members.com) der jeweiligen Kategorie den Platz 1 bis 5 belegen. Wir bitten euch, uns eure Teilnahme an die office@wkuworld.com zu schicken.

Wir freuen uns auf eure zahlreiche Teilnahme und eine erfolgreiche Vorbereitung für die Weltmeisterschaft 2023 in Calgary, Kanada. Lasst uns gemeinsam als Team unser Bestes geben und Deutschland würdig vertreten!
Time

All Day (Sunday)(GMT+02:00) View in my time
Location

Sonkei Dojo

Krepenstraße 6c 30165 Hannover