Gods of War Open
2021sun24octAll DayAthens Olympic Stadium, Marousi 151 23, GreeceGods of War OpenMore Information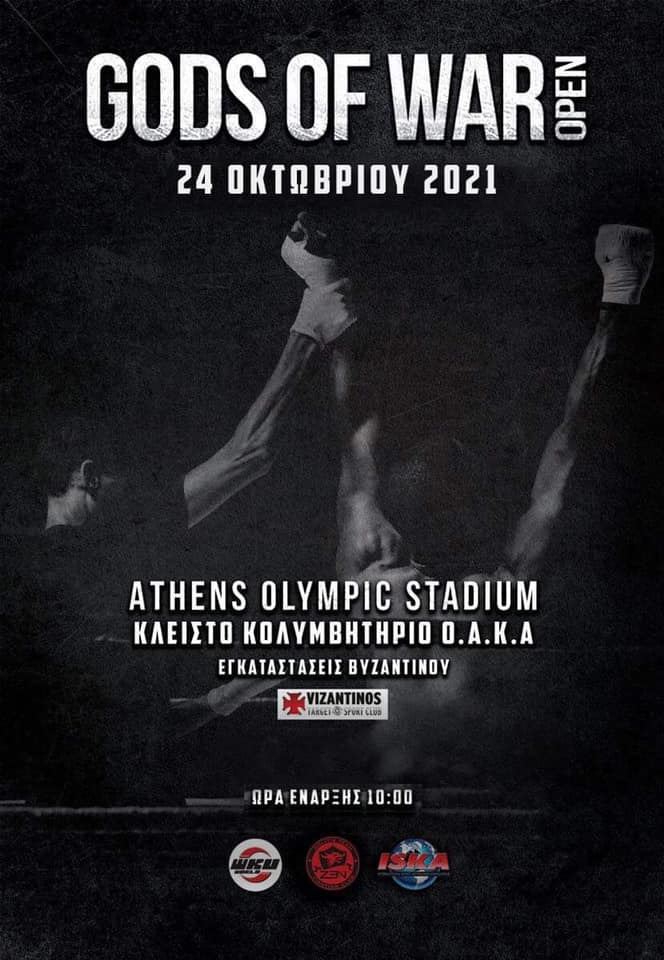 Event Details

[EL] GODS OF WAR OPEN 24 Οκτωβρίου ΟΑΚΑ
Εγκαταστάσεις Βυζαντινού
Όλα τα στυλ μάχης σε ρινγκ και τατάμι με την αιγίδα των κορυφαίων ομοσπονδιών ISKA WKUWORLD Official K-1
Συμμετοχές από όλη την Ελλάδα & Κύπρο!
Μέσα στην εβδομάδα θα σας αποσταλεί το official invitation και θα μπορείτε να δηλώσετε τις συμμετοχές στην πλατφόρμα της διοργάνωσης!
Μείνετε συντονισμένοι είμαστε στα μεγαλύτερα Παγκόσμια ρίνγκ!

[ENG] GODS OF WAR OPEN 24 October OAKA
Byzantine Facilities
All fighting styles in ring and tatami under the auspices of the top federations ISKA WKU Official K
Participants from all over Greece & Cyprus!
Within the week the official invitation will be sent to you and you will be able to register your entries on the event's platform!
Stay tuned we are in the biggest World rings!

[🇩🇪] GODS OF WAR OPEN 24. Oktober OAKA
Byzantinische Einrichtungen
Alle Kampfstile im Ring und auf der Tatami unter der Schirmherrschaft der Top-Verbände ISKA WKUWORLD Official K-1
Teilnehmer aus ganz Griechenland und Zypern!
Innerhalb einer Woche wird Ihnen die offizielle Einladung zugesandt und Sie können Ihre Beiträge auf der Veranstaltungsplattform registrieren!
Bleiben Sie dran, wir sind in den größten Weltringen!
Time

All Day (Sunday)(GMT+03:00) View in my time
Location

Athens Olympic Stadium

Marousi 151 23, Greece